10-11-2017, 12:39 AM
Senior Member

Join Date: Nov 2016

Location: United States

Posts: 123
Re: Hello and welcome!
That's a pretty common way to develop the fetish as far as I'm aware, at least that's exactly how it worked for me. Welcome!
10-11-2017, 05:55 AM
Junior Member

Join Date: Oct 2017

Location: Florida

Posts: 20
Re: Hello and welcome!
Thanks b0f0s0f,

I guess should have been more specific. It wasn't a fear of balloons, like I know a lot of looners had when they were little, it was a literal hatred for them. My theory is that I've always found the touch, smell, and feel of balloons to be very soothing and fun, but I thought that boys shouldn't enjoy balloons this much so I made sure to stay away from them at all costs, I saw balloons as bad and childish. When puberty started I finally allowed my feelings towards them to resurface and blossom into a fetish.

Sadly, I've never met another looner with a childhood experience similar to me. It seems most people were either afraid of them or loved them as kids. I'd love to meet someone with a similar experience though.
19-11-2017, 09:37 AM
Junior Member

Join Date: Nov 2017

Posts: 1
Re: Hello and welcome!
Hi, i'm a looner from lebanon, the middle east , a rare find i suppose. I live in a christian envirement but meh, i just don't care about religion at all, it has caused many problems in the coutry. Anyway i'm 18 , male , and had a phobia about load bangs : fireworks, guns, and obviously balloons popping. But then at around 10 or 12 i dont recall , i started searching on youtube for women popping balloons, just out of curiosity. I was not aware about what i was doing back then it was all odd and creepy , unconscious. Then when my balls grew large it clicked. I just knew in less than a minute who i was and what it is , how many we are (thanks to google) and found this forum which i checked regularly since i was 12. I love erotic stories that include balloon fetish (all thanks to wildheart and lyckr. blowhyoooge please continue what you started, all of you guys kept me entertained for quite a while). I am not comfortable when i am not in control , but i love it when it is intimate, with 1 girl. I am still afraid of loud pops but i do pop balloons if i am alone or if it is only me and a girl. Now i haven't been in a relationship yet but i have my cousin who live downstairs , both of us with our parents (here its normal you'll live with your parents until you can afford an appartment/house it's super expensive). I had quite alot of looning experince with her but nothing sexual or out of the norms, but to the point of creaming my pants with pre-cum then rushing to the toilet to finish what she started. I barely can do anything in my room as i share it with my little brother jhonny , 5 year old and everyone is just always in the house i can't be alone. NO ONE knows about this fetish, NO ONE , you guys are the first XD. I'm extremely open minded and NEVER talk badly to anyone on the internet i tend to give my opinion with convincing arguments and my posts tend to get long, and i mean it. I really want to find someone here in the country that might share the fetish , but i doubt i will. Have a nice day.
21-11-2017, 09:46 AM
Inflatable Enthusiast

Join Date: Oct 2017

Location: A tiny rock floating in the middle of nowhere in an infinite universe, orbiting around a tiny star.

Posts: 185
Re: Hello and welcome!
Stupid that I never realized this thread was a thing.
I'm Jake I live in The Land of the Long White Cloud, a.k.a New Zealand (born here but I'm ethnically diverse)
I love balloons and vinyl pool toys of all shapes and sizes, but not just in a sexual way.
I'm a serious non-popper and hate it when a balloon accidentally pops, rather saddening for me. To be completely honest, to me a balloon popping is basically death for the poor thing. Is it just me?
I've always been afraid of balloons when other people are around, but when it's just me and a balloon (or multiple) and they aren't past their limit(s) then I'm perfectly happy. I suppose they help me through depression at times, especially my new pool toy, Layla. Since getting her (she's a Bestway Jumbo Whale by the way) I've been a lot happier with myself. I've never been "normal", never fitted in, and balloons and/or pool toys make me feel accepted and loved, things I've never really felt as a kid (all that much).
I still remember that time when I was in kindy, I had a red helium balloon, perfectly happy, and then that balloon popped and I cried my eyes out.
That's pretty much all you need to know about me and my story with balloons and inflatables.
A picture of my pool toy, Layla:
[IMG]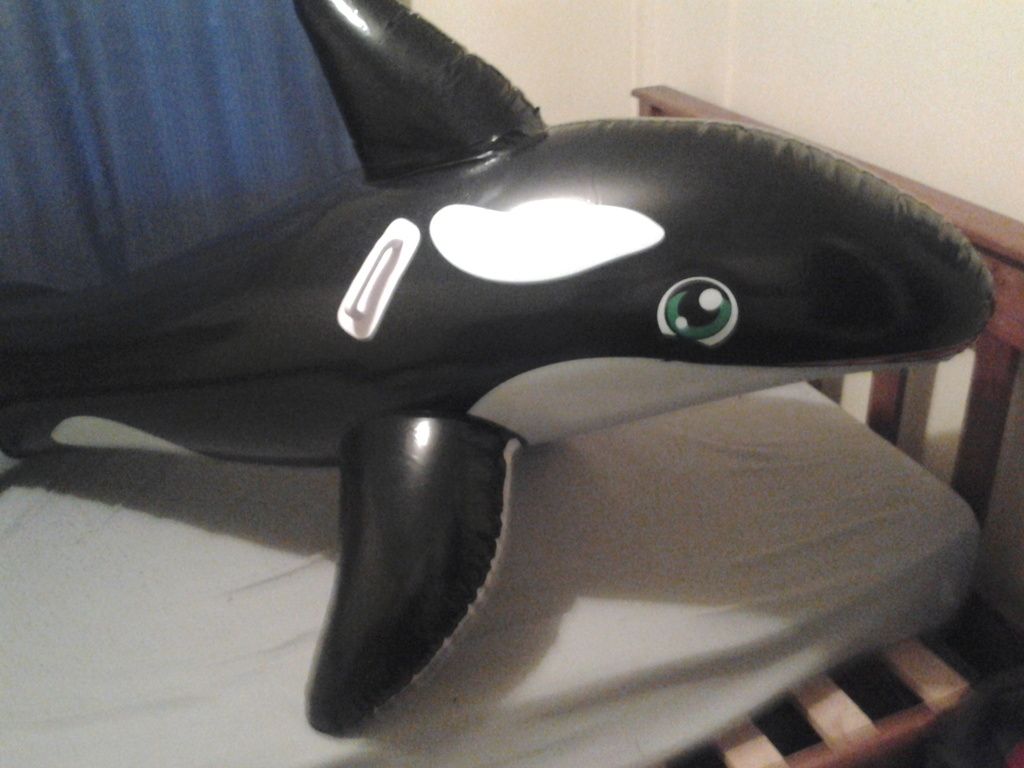 [/IMG]
22-11-2017, 03:48 PM
Junior Member

Join Date: Nov 2017

Posts: 13
Re: Hello and welcome!
Hello everybody!
I'm a straight male looner, 21 years old. I discovered this forum several months ago and has been reading it from time to time since then, but I hesitated to join as a member. Until now — I finally decided that I really have to join the conversation and share my experience. Especially since there are few people I can talk to about balloons and balloon fetish (in fact, none).
I started describing my becoming as a looner, but I realized it would be a long story. I'm going to share it a bit later here. For now, just thank you guys for being here and creating a place where we the loonatics can speak openly about what unites us.
Happy looning
22-11-2017, 05:57 PM
Re: Hello and welcome!
You're gonna love it here, Milkman!
Welcome!
22-11-2017, 09:01 PM
Junior Member

Join Date: Nov 2017

Posts: 13
Re: Hello and welcome!
Thanks Bubble Boy!
All right, here comes my story.
I discovered my fetish when I was about 14 or 15. Before that, I had a huge fear of balloons, feeling disturbed at every party where balloons were used for decoration, and running away in panic when someone popped the balloons for fun or as part of a game.
Not sure when it all changed. I think it was a 3-second splash clip on TV showing a teenage actress pop a pink balloon with a pin. What I felt then was a mix of awe and arousal. Then, after some time, something drove me to search for online videos of females with balloons. I bet you can imagine my surprise when I found out that there were a lot of such videos, and that in some of them people seemed to play and pop the balloons 'for fun', but for some other purpose... And imagine how stunned I was when I saw a BTP video for the first time. So I started watching those vids, with my body shaking and my boner ready for battle. One day there was a 'fetish' word in a video's title, and at that moment I finally realized my addiction. Guess I was just waiting for someone (something) else to tell me I was a looner
I know I sound like a kid describing how he found out about porn, but that's more or less what it was. I was feeding my fetish with online videos and pics for about a year, I guess. Deep inside I always knew that was not enough.. But I'm going to stop right there, and describe my first personal looning experience in the poppers' subforum.
I wish you all good pleasure with the balloons to come.
22-11-2017, 10:25 PM
Senior Member

Join Date: Nov 2016

Location: United States

Posts: 123
Re: Hello and welcome!
That's my story pretty much exactly, it seems to be a pretty common way people develop the fetish. Welcome!
03-12-2017, 01:33 PM
Junior Member

Join Date: Dec 2017

Posts: 6
Re: Hello and welcome!
Hello everyone!

I'm a 30 year old guy from East Germany who has a fascination for balloons and inflatables since early on. While I was always a bit phobic of popping balloons I did love to play with other inflates like bop bags and especially with exercise balls. Overcoming my phobia of bursting balloons, I'm more and more enjoying my time with balloons just as I do with pool toys and gym balls. <3 Although I'm feeling somewhat emotionally attracted and have times when I'm very protective popping is somewhat just another part of the things about balloons. I'm just not really into quick mass popping of balloons. I love playing with balloons as long as I feel like they have a use to me. And in the end if I'm up to it I may pop them (I'm more of a pin-popper tho). When it comes to pool toys I'm trying to keep them for as long as I can (which includes repairing occasional holes).

But still there are a lot of things I don't know about balloons and I hope to exchange my experience here with fellow looner and learning more about them.
05-12-2017, 04:32 PM
Junior Member

Join Date: Nov 2016

Location: Somewhere

Posts: 16
Re: Hello and welcome!
One of my first posts here despite the old account,so hello people,I love beachballs,well anime beachballs to be exact(well can't help my weeabooness),while I love sitpopping and blow to pop beachballs,I draw the popping line on anime beachballs, which I don't have,but soon enough I hope.Besides that, I love semi transparent beachballs or ones with anime graphics.Been quite a while since I have seen a beachball sadly,being the hermit I am so that's all about me
| | |
| --- | --- |
| Thread Tools | Search this Thread |
| | |
Posting Rules

You may not post new threads

You may not post replies

You may not post attachments

You may not edit your posts

---

HTML code is Off

---
All times are GMT. The time now is
07:28 AM
.